Curriculum Vitae:
Pieter Roux was born in Carletonville, South-Africa and studied at the University of Potchefstroom with Prof. Werner Nell and at the University Witwatersrand with Joyce Barker and Dawn Brown. He took part in masterclasses with Prof. Hanno Blaschke/Munich and Prof. Hilde Zadek/Vienna. He was the winner of several singing competitions in South Africa.
After his studies he began his career at the State Theatre Pretoria. It was during this engagement that he changed from baritone to tenor. Since moving to Germany in 1996, he was a member of the ensemble at the State Theatre Wiesbaden until 2001.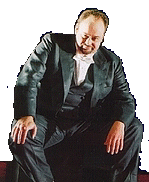 Beginning in August 2001, he was engaged as a lirico spinto tenor at the opera in Wuppertal where he celebrated his triumphant debut as Cavaradossi in Puccini's Tosca. In addition to singing Lenski in Peter Tschaikowskij's Eugen Onegin, Pieter Roux had the title role in Offenbach's Orpheus in der Unterwelt, the tenor role in Terence McNally's Masterclass and Spiridoff in Oscar Straus' Der tapfere Soldat (The Chocolate Soldier).
In May 2003 he sang the principle role of Ahmet in Salvador Brotons' opera Der Traumhändler at the world premiere. In June/July 2003 and 2004 he had great critical acclaim singing Pinkerton in Giacomo Puccini's Madama Butterfly. In the season 2004/05 he will be singing Giovanna d'Arco (Carlo VII), I Masnadieri (Carlo) and Luisa Miller (Rodolfo) in Dessau, Rigoletto (Duca) in Wuppertal and Tosca (Cavaradossi) in Gelsenkirchen.
Guest performances have taken him to numerous theatres and festivals, including the Theatre Bremen, State Theatre Mainz, State Theatre Kassel, Rostock, Heidelberg, Aachen, Lübeck, Flensburg and Wernigeröder Summer Festival. Besides his operatic performances he has been having considerable international success as a concert-singer: in May 2003 he sang Franz Liszt's Faust Symphony and in 2004/05 he will be singing Beethoven's Symphony No 9, the Verdi-Requiem and concerts in Germany, Spain, USA and South-Africa.